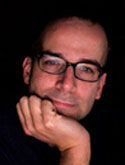 Dag Spicer is CHM↑'s "Chief Content Officer," and is responsible for creating the intellectual frameworks and interpretive schema of the Museum's various programs and exhibitions. He also leads the Museum's strategic direction relating to its collection of computer artifacts, films, documents, software and ephemera--the largest collection of computers and related materials in the world.
Dag also undertakes research for legal and commercial intellectual property specialists and writes on computer history for various media and scholarly organizations. Since he began in 1996, he has given hundreds of interviews with major news organizations and is recognized internationally as a subject matter expert in the field.
Prior to joining the Museum, he spent a decade as a digital circuit designer, eventually founding two successful companies, Pacific Engineering Group and Pacific Documentation Group, both based in Vancouver, British Columbia (Canada).
Seeking to understand the deeper forces at work behind the nature of scientific and technological innovation, he left engineering to pursue an interest in the history of science and graduated from Trinity College (University of Toronto) in 1993 with a B.A. (Hons.) in History and an M.A. in the History and Philosophy of Science and Technology in 1995.
Spicer was attending the History of Science Ph.D. program (with a Ph.D. minor in electrical engineering) at Stanford University under Tim Lenoir when, in his second year, CHM Board Chairman Len Shustek and Museum co-founders Gwen and Gordon Bell approached him about managing the collection at the Museum. He accepted, leaving Stanford with a second Master's degree (A.M.) in 1997.
Spicer is on the Editorial Board of the IEEE Annals of the History of Computing↑ and is a member of the American Historical Association↑ (AHA), the Society for the History of Technology↑ (SHOT), and the American Association for the History of Medicine.
He volunteers at Stanford University Medical Center in the Department of Surgery and has a lifelong interest in internal medicine, surgical techniques, and the disciplinary foundations and history of medicine. His hobbies include swimming, hockey, computer architecture, limnology, and Cycladic art.
See also
[
]